2020 Hunter Safety Awards Best Health and Wellbeing Program – Winner

Body and Mind 2000 run by Chris Atkins has won the 2020 Safety Award for "Best Health and Safety Program – Small to medium business"

When asked why she entered this award and what makes winning so satisfying, Chris has replied: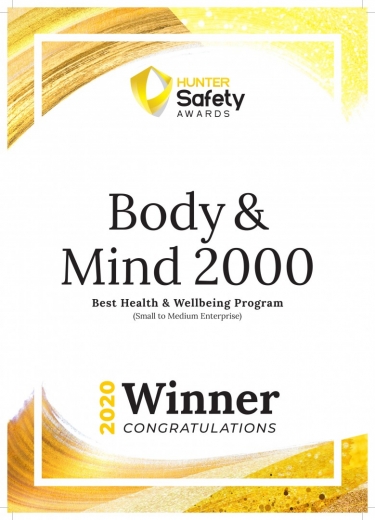 "Body and Mind 2000 has been heavily involved in creating and running safety and wellness programs for companies for some decades now. The goal is the provision of programs which are designed to promote physical well-being, fitness and safety, while also encouraging a positive attitude towards continuing to improve and maintain healthy lifestyles. To achieve this there is a natural progression into warm-up and preparation for activities, leading to safety benefits suitable to workplaces.

The reason I entered my business was in response to an invitation by Sarah Jane Dunford four  years ago. I decided on this category for 2020 as I pioneered the approach into workplace health and safety so many years ago and have persisted with this approach in my programs. My approach is flexible and my web-site carries as much information as is possible about the range of services that I provide. Sessions are tailored to the individuals involved to give great variety and choices, so that participants can gain maximum benefit and enjoyment. Communication in groups and with individuals is also a useful part of the programs.

My approach comes from infectious belief in what I do and delivering my best at every session, and I firmly believe that this helps promote both physical and mental well-being which is of benefit to individuals and employers and naturally links in with safe and happy employees."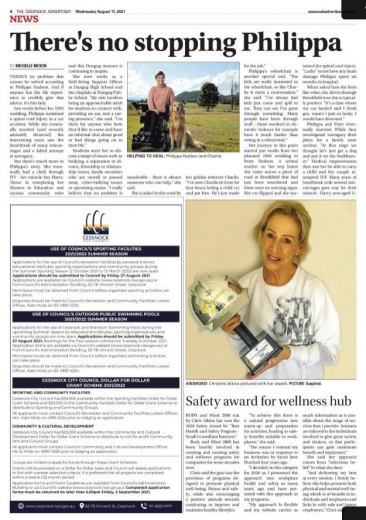 Congratulations to Chris Atkins at Body and Mind 2000 for this wonderful recognition.
A great local business specialising in fitness and wellness programs for individuals and groups. The creation of fitness education programs for workplaces to promote the heath, safety and well-being of employees, is a tremendous and valuable asset available in our local area.
Chris's programs are suited for people of all ages. Services include pilates, fitness and gym instruction and rehabilitation.
A happy, knowledgeable lady who will push you to be a better you. And from one of us who gets put through their paces each week … Thanks for keeping me vital.
Well done Chris! – Client of Body and Mind 2000
CLICK HERE TO VIEW FULL NEWSPAPER ARTICLES
https://digital-print-edition.austcommunitymedia.com.au/CA/2021/08/11/3dissue/index.html
https://www.newcastleherald.com.au/story/7370591/saluting-leaders-in-safety/?cs=23902

Fitness Australia
Fitness Australia is the peak health and fitness industry association providing a range of support services and solutions to over 30,000 fitness professionals, businesses and suppliers Australia-wide.

Outstanding Achievements  
2011 Australian Exercise Professional of the Year and  NSW Exercise Professional of the Year Award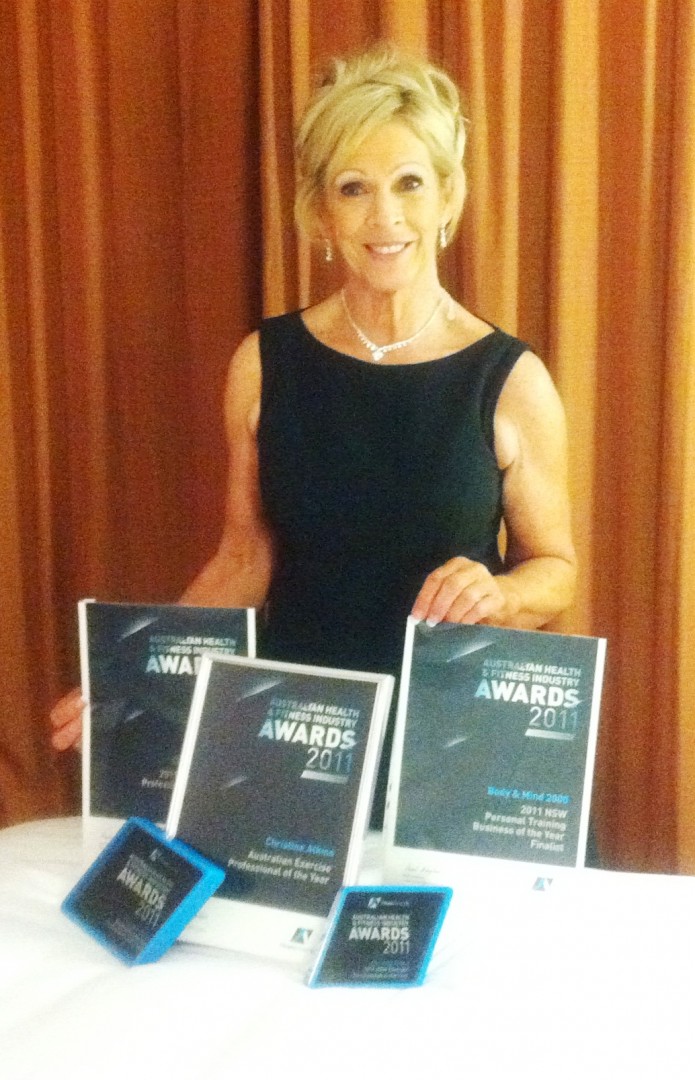 Through superior customer care and the creation of ingenious schemes such as her Family Fitness strategy, Christine gives clients the motivational boost they need when outside influences override their enthusiasm for exercise. She has designed programs specifically for children, adults and mature citizens, which she has taken outside the gym to workplaces, community centres and schools. She believes in a lifelong commitment to good health and making fitness fun and a 'way of life'.

2009 Australian Exercise Professional of the Year and NSW Exercise Professional of the Year Award

Surpassing 180 applicants, Chris Atkins was awarded the NSW Exercise Professional of the Year Excellence Award in 2009. Chris represented NSW at the National Fitness Industry Awards held in Perth. This prestigious ceremony saw fitness industry professionals from across the country competing for the highest accolades and recognition, with Chris being the National Award Winner.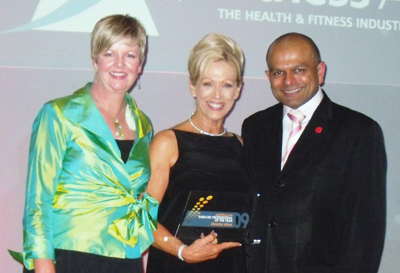 In establishing Body and Mind 2000, Chris has created a unique environment in which health and fitness is promoted to meet the needs of individuals at 'work, home and play' in a non-threatening and highly motivating environment. With 20 years in the fitness industry, Chris's skills in analysing the needs of employees in the context of work, family and community provided the right combination for the rapid growth of services. Chris has discarded the traditional 'no pain, no gain' idea to focus on fun activities to achieve fitness. Clients monitor their own data to keep track of their success and collaborate with Chris on their programs. The uniqueness of Chris's approach is her 'family focus' that promotes health and fitness for workers by targeting the fitness of the whole family. Families are generally too busy to attend a gym on a regular basis. With innovative programs and a creative approach to motivating people to improve their health and fitness, Chris has established an excellent environment for fitness and personalised support that takes away the 'effort' of getting fit. There's nothing quite like it in the industry!
What this award means to me:
Winning the NSW Exercise Professional and Australian Fitness Professional of the Year Excellence Award means a great deal to me as it epitomises my ideals and commitment to the promotion of fitness. Throughout my life I have maintained my passion for a healthy lifestyle with fitness as an essential part of life. Winning this award also acknowledges the hard work that goes into being a role model for clients. Unlike many other occupations, to be a 'Exercise Professional of the Year' means 'walking the talk'. My own level of fitness is a measure of how much I believe in its importance at all stages of life. Fitness is the common denominator for people of all ages and backgrounds. The uniqueness of my approach for my clients and myself is to educate and support people to identify their own optimum level of fitness and work towards realistic goals in its achievement. The Award of NSW Exercise Professional of the Year highlights my philosophy of a 'family focus' on fitness. This strategy builds in the support needed in a society in which there are many influences that can reduce our motivation and where the fitness professional isn't always available to counteract the barriers to a healthy lifestyle.
Awards and Recognition
Hunter Region BEC Business Hub
The Hunter Region BEC is one of over 100 BEC's that operate nationally to provide business clients with practical assistance in business planning, advice on marketing, budgeting and cash flow. The BEC recognises exceptional local businesses annually.
Awards and Recognition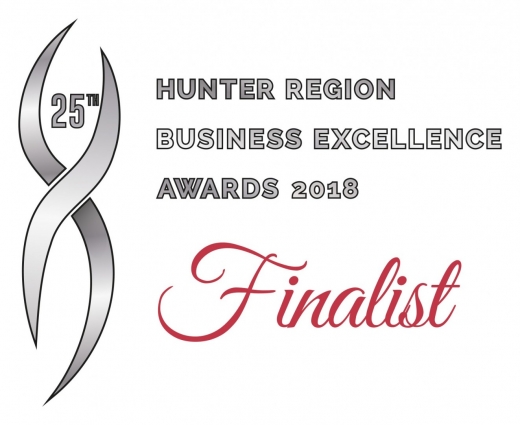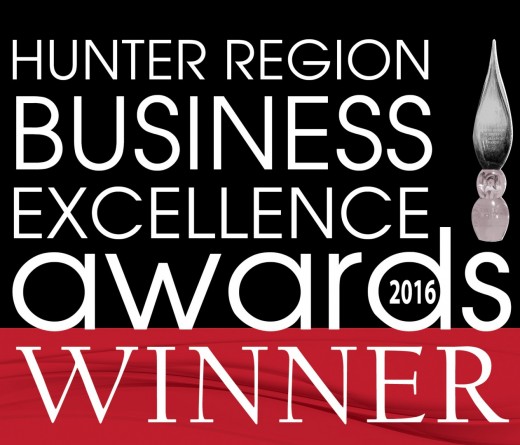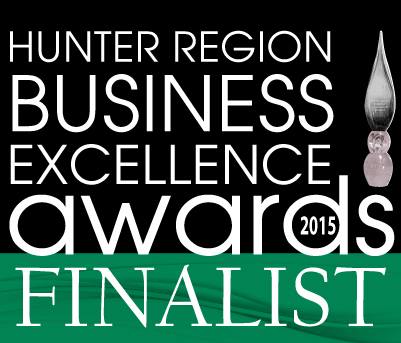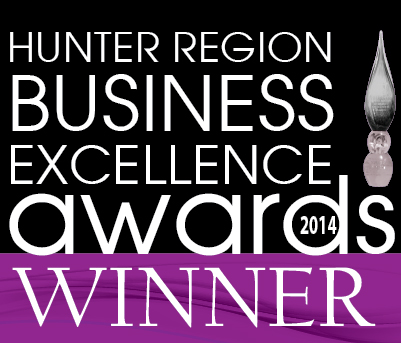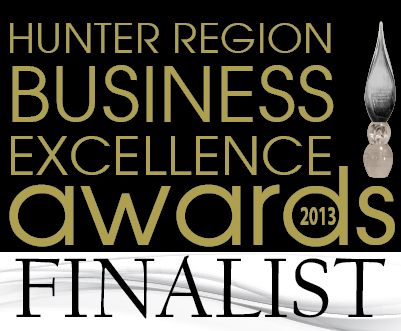 Hunter Safety Awards
The Hunter Safety Awards were designed in 2016 to recognise companies and individuals within the Hunter region who are demonstrating best-practice and innovative approaches when it comes to workplace health and safety (WHS).
Awards and Recognition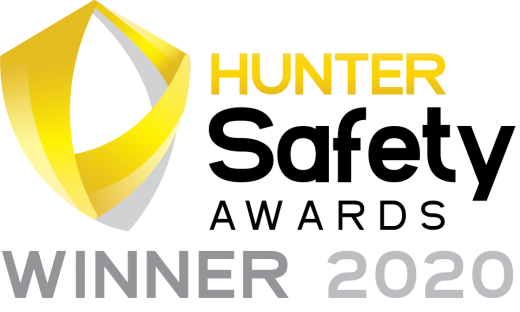 List of Awards and Achievements
Australian Health & Fitness Industry Professional/Quality Awards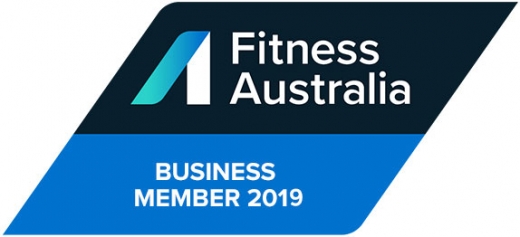 2014 Australian Health & Fitness Industry Quality Award Gold
2013 Australian Health & Fitness Industry Quality Award Gold
2012 Australian Health & Fitness Industry Quality Award Bronze
2011 Australian Exercise Professional Of The Year
2011 NSW Exercise Professional of the Year
2011 NSW Personal Training Business of the Year
2009 Australian Exercise Professional Of The Year
2009 NSW Exercise Professional Of The Year
2008 NSW Personal Training Business Of The Year—Finalist
2008 NSW Fitness Professional Of The Year—Finalist
2006 Outstanding Contribution To The Industry By An Individual—Finalist
2004 Personal Trainer Of The Year—Finalist
2003 Fitness Employee Of The Year—Highly Commended
Hunter Region Business Excellence Awards
2018 Hunter Region Health and Fitness Services – Finalist
2017 Hunter Region Health and Fitness Services – Highly Commended
2017 Hunter Region Home Based Business – Highly Commended
2016 Hunter Region Business Woman of the Year – Winner
2016 Hunter Region Health and Fitness Services – Winner
2015 Hunter Region Business Excellence Award – Highly Commended
 2015 Business Woman of the Year – Highly Commended
2014 Business Woman of the Year – Finalist
2014 Hunter Region Business Excellence Award Winner
2013 Hunter Region Business Excellence Award Finalist
2011 BEC Excellence Awards Winner Recreation
2011 BEC Excellence Awards Winner L/Hunter
2011 Business Woman Of The Year – Finalist
2010 Business Woman Of The Year – Finalist
2010 Hunter Region Business Excellence Awards – Finalist
2010 Lower Hunter Individual Customer Service – Finalist
2009 Lower Hunter Business Excellence Award – Winner
2008 Hunter Region Business Excellence Awards – Finalist
2006 Lower Hunter Business Excellence Awards – Finalist
Hunter Safety Awards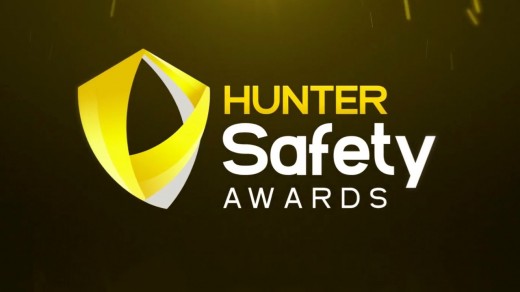 2020 Hunter Safety Awards Best Health and Wellbeing Program – Winner
2018 Hunter Safety Awards Most Innovative WHS Idea Award – Finalist
2017 Hunter Safety Awards Most Innovative WHS Idea Award – Finalist
2017 Hunter Safety Awards Best WHS Improvement Award – Finalist
2016 Hunter Safety Awards Most Innovative WHS Idea Award – Finalist
Trophies and Certificates